Four Generations
of Familia Coffee Tradition
High Altitude Farms • Premium Coffee Beans • Artisan Roasted Blends
Amor for Coffee
The Perez familia's love for serving coffee started with Don Pepe in the sugarcane fields of Puerto Padre Cuba nearly 90 years ago. That legacy continues four generations later with premium high-altitude coffee, artisan roasted right here in the United States.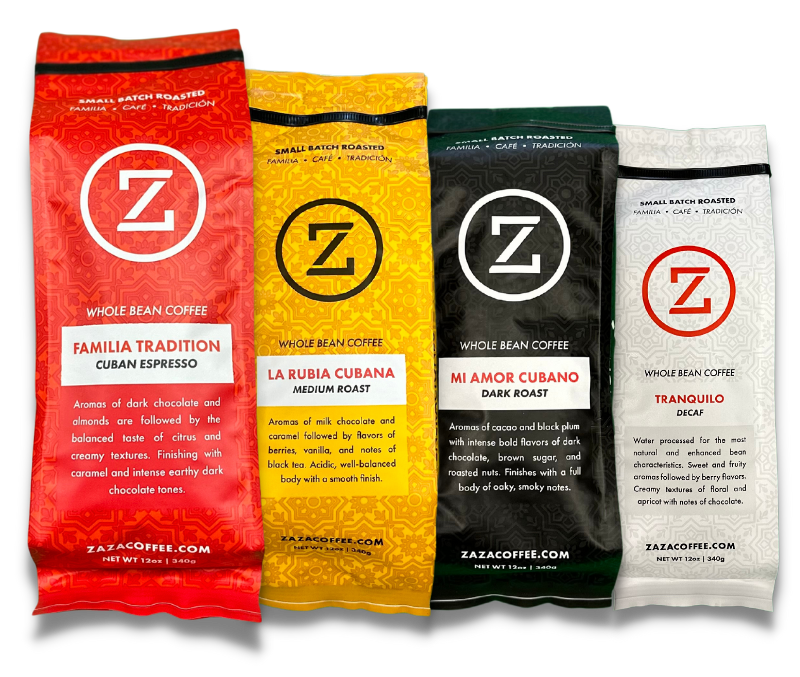 Eco-Friendly Coffee
Enjoy amazing coffee and help the environment too! Zaza's eco-friendly, FREE shipping option provides access to your favorite flavor profiles with a variety of traditional and exotic coffee blends. Each package is delivered in a burlap bag made from biodegradable jute to make shipments carbon neutral.
Shop Now
"The perfect flavor and consistency!"
Coffee Subscriptions
The Zaza Amigos Coffee Club provides savings on convenient automatic delivery of premium, high-altitude, artisan roasted coffee. With a variety of roast profiles and blends to choose from, the subscription service can be customized based on the quantity and delivery frequency you prefer. Sign up for our coffee subscription today and start enjoying the convenience of delicious artisan roasted beans delivered straight to your door.
Learn More
Welcome to Zaza Coffee
---
Premium Coffee Beans
Enjoy artisan roasted coffee at home!

Welcome to Zaza Coffee! Coffee is more than a drink - it's a way to bring people together and creates community. That's why our vision is to "Brew a sense of belonging, through coffee & familia tradition, for every generation, from our casa to yours." Coffee is about the tradition and culture that surrounds it, and the connections it helps to create between people. That's why we strive to infuse a sense of our Cuban heritage and familia tradition into every bag of coffee. Our commitment is to provide premium, high-altitude, artisan roasted coffee beans, while doing so with integrity, maintaining cultural traditions, and maintaining ethical practices. Our Cuban style espresso, along with each of our premium coffee blends, are roasted right here in the United States. We source our high-altitude coffee beans from areas throughout Latin America including Colombia, Costa Rica, and even Brazil. We believe that coffee is meant to be experienced, savored, and enjoyed. It is meant to complement life's special moments. That's why we offer many delicious premium coffee blends to choose from; Familia Tradition Cuban Espresso, Mi Amor Cubano Dark Roast coffee, La Rubia Cubana Medium Roast coffee, and natural water processed Tranquilo Decaf coffee. Whether you're a long-time coffee drinker or new to the world of artisan roasted coffee, we welcome you to join the Zaza Coffee tradition and we are grateful to have a new Amigo!